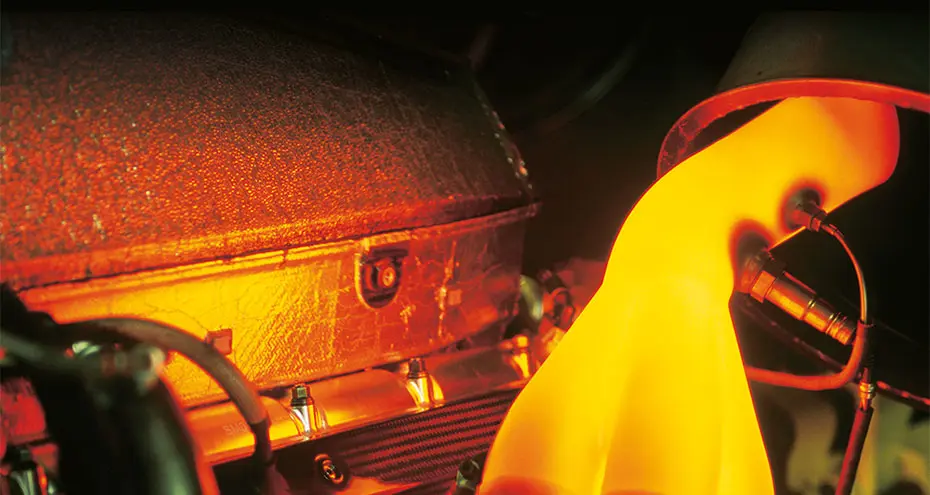 Measuring exhaust gas temperature: exhaust gas temperature sensors – exhaust systems
Monitoring of the exhaust temperature not only allows the monitoring of fuel combustion, but also indicates irregularities early on, e.g. the onset of engine damage or a build-up of heat in the exhaust train caused by damage or deformities sustained during the race. A further typical cause of engine overheating is of course incorrect or un-optimised ignition or a malfunction. Constant monitoring with suitable sensors ensures that you have reliable information throughout the entire race, allowing failures and damage to be prevented.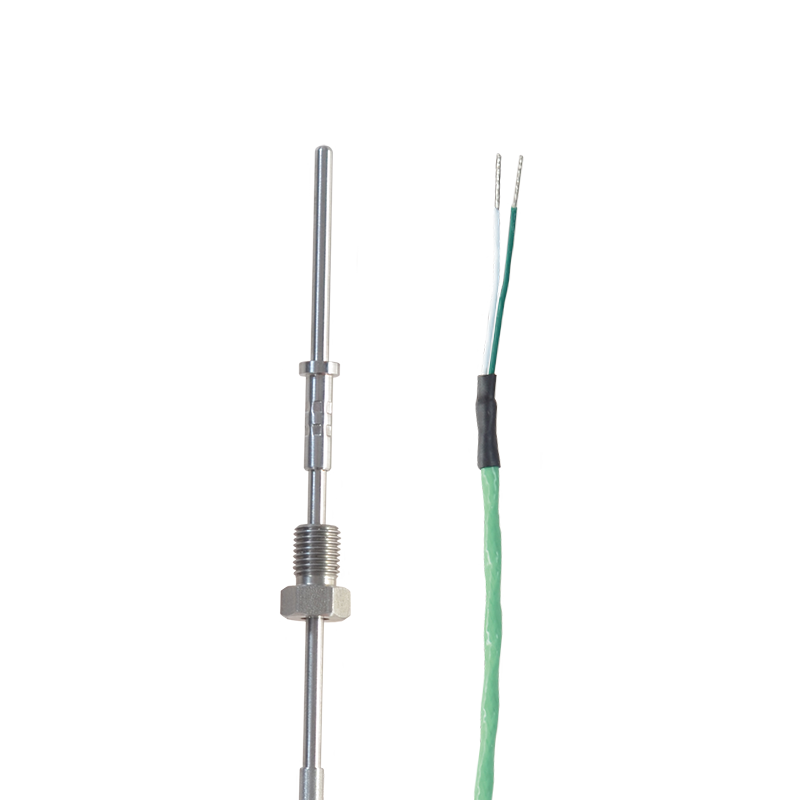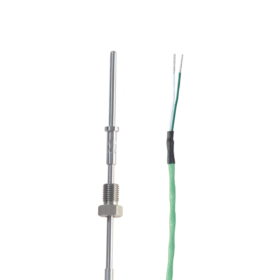 This plug-in sheathing thermocouple is recommended for measuring the temperature in the exhaust stream. It can be used very much universally, and with installation using the cap nut the thermocouple does not need to be rotated, simplifying installation or rapid changeovers. It also has "motorsports genes" such as vibration resistance, rapid response times and high temperature resistance.
The advantages:
Vibration-proof
Rapid response time
High temperature resistance (up to 1,200 °C)
Various installation lengths can be supplied
With cap nut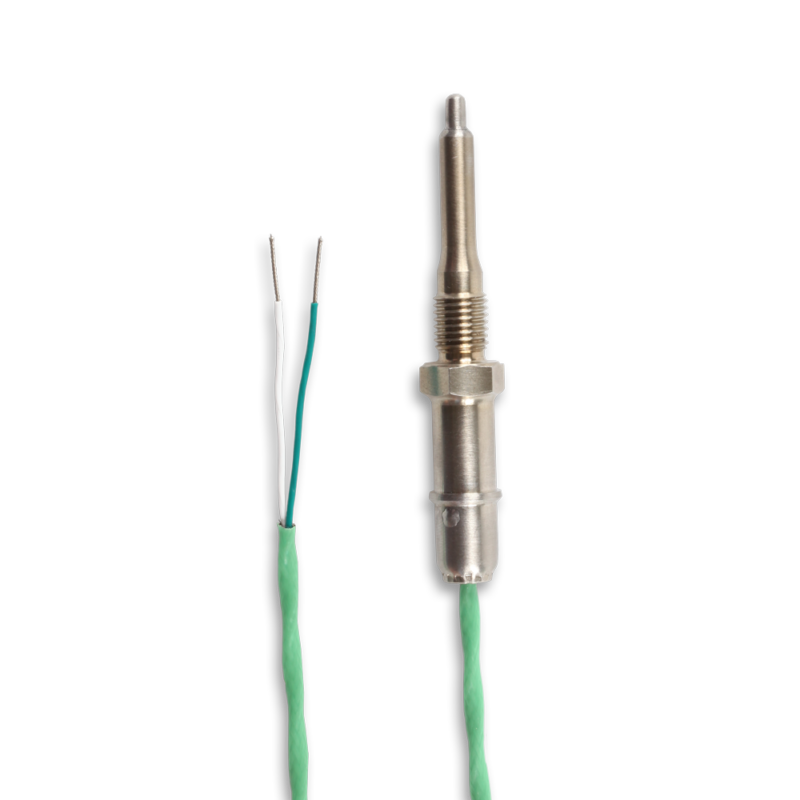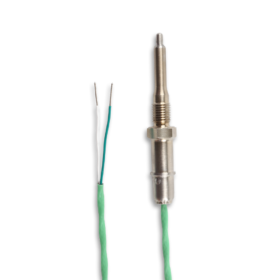 This sensor for measuring exhaust gases has been developed in collaboration with the Formula 1 team. The aim was to achieve the greatest possible reliability during the race. The sensor was built so that it can withstand a very high degree of vibrations and extreme temperatures, but also have very compact dimensions. The special feature is the connecting wire. It is not, as would otherwise normally be the case, made from mineral-insulated, stainless steel-sheathed wire, which is highly rigid and is prone to vibration fractures. Instead, the wire is made up of stranded conductors with PTFE insulation and an additional heat guard, allowing it to be adapted easily and with flexibility to its environment. The sensor is used with great success by professional teams in long-distance races, American racing series and the German DTM.
The advantages:
Very stable in vibration
Highly robust
High temperature resistance (up to 1,200 °C)
Customised connector assembly is possible
Customisable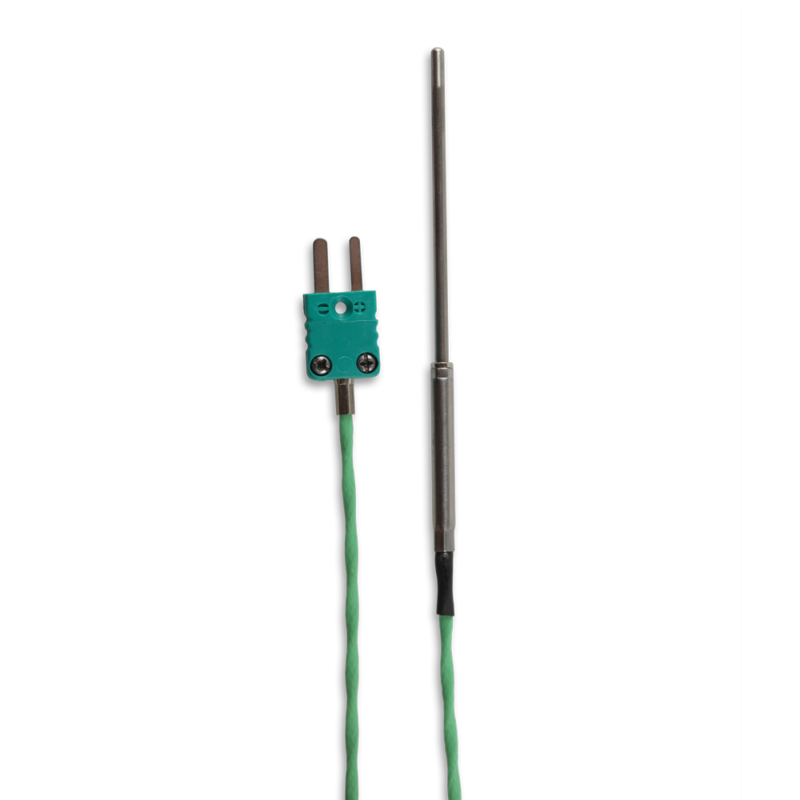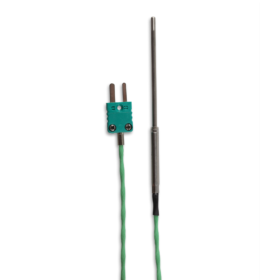 The sheathing thermocouple from Therma is ideal for the reliable and fail-safe measurement of temperature in the exhaust system. It boasts a simple structure. By choosing the double-walled sheathing material from Nimonic75, this thermocouple is well equipped against the influences of corrosion, vibration and very high temperatures. By installing it with a compression-type fitting, the installation length can also be determined individually on site.
Images of sensors for exhaust systems
Buy Exhaust systems online
Measure exhaust gas temperature for professional motorsport
In addition to industrially used temperature sensors and thermocouples, our expertise also extends to motorsport at the highest level. An important aspect for safety mechanisms is the control of the exhaust gas temperature. But the gas temperature is also important for maximum performance and fuel efficiency. If you carry out continuous checks with one of our exhaust gas temperature sensors or thermocouples, deviations and irregularities can be detected quickly. Measuring the exhaust gas temperature effectively prevents the engine from overheating. Constant monitoring by specialized temperature sensors is given throughout the race, so damage and failures can be prevented.
What are flue gas temperature sensors?
Exhaust gas temperature sensors or exhaust gas temperature sensors are a very important component that can be found on modern vehicle engines. These exhaust gas temperature sensors are placed in the exhaust duct to constantly measure the temperature in the exhaust gas flow and in the exhaust gas evaluation of the engine system. This allows the engine electronics to precisely control fuel consumption by responding optimally to any change in exhaust gas temperature and changing the balance of power. However, this exhaust gas temperature sensor also has other functions: it detects the correct stop point of the engine during the starting process, regulates the air supply into the engine compartment for greater performance of sports cars, identifies irregularities in the air-fuel mixture and protects against unpredictable engine failure and overheating.
That is why measuring the exhaust gas temperature is so important
In professional motorsport, such as Formula 1 racing, excellent technical equipment is indispensable. The high loads on the vehicles make early detection of damage necessary to protect the driver and enable a successful completion of the race. By measuring the exhaust gas temperature, incipient engine damage can be detected more quickly, for example if a certain temperature drop occurs that is not in the range of common fluctuations. Since damage or deformation of vehicle parts often occurs in the field of professional motorsport, internal damage or heat build-up is a possible effect. If the exhaust gas temperature sensor is defective, there is a significantly higher risk for the driver and vehicle. We therefore recommend only using professional sensors like ours, which have been specially manufactured and thoroughly tested for this purpose. This is the only way to measure the exhaust gas temperature as a reliable tool for greater safety and performance.
Our thermocouples and exhaust gas temperature sensors
For use in motor sports, we offer you a number of different models that can be selected as required. Of course, we are also available to advise you and support you in the purchase decision for a precisely matched exhaust gas thermocouple. A plug-in thermocouple with a union nut, for example, can be used universally and is easy to install. The union nut ensures easy installation and thus the possibility of quick replacement. The different installation lengths make this element for measuring exhaust gas temperature versatile and particularly flexible.
In addition, the model is specially designed for measuring the exhaust gas temperature in motor sports, because it is vibration-resistant and has a high temperature resistance. You can measure up to 1,200 degrees Celsius with this exhaust gas temperature sensor and also rely on a fast response time.
Measure flue gas temperature with professional sensors
Our exhaust gas sensor F1 also impresses with its maximum reliability and compact design. The sensor is extremely robust and resistant to vibrations, but can still be individually adapted to the respective vehicle. Since this device was developed in cooperation with a Formula 1 team, you can be sure of sophisticated technology and high-quality workmanship. A particular advantage of the powerful device for measuring flue gas temperature is the light and flexible connection line. Instead of a stainless steel casing, a PTFE insulation was used here, which entails no risk of vibration fractures. The temperature sensor model with individual plug assembly is in demand with professional teams, both nationally and internationally and for long-distance races. Finally, we also offer a reliable sheathed thermocouple. Here, the exhaust gas temperature can be measured with a simple and effective design that reliably protects against corrosion and high temperatures. The clamp screw connection and thus variable installation lengths are particularly practical.