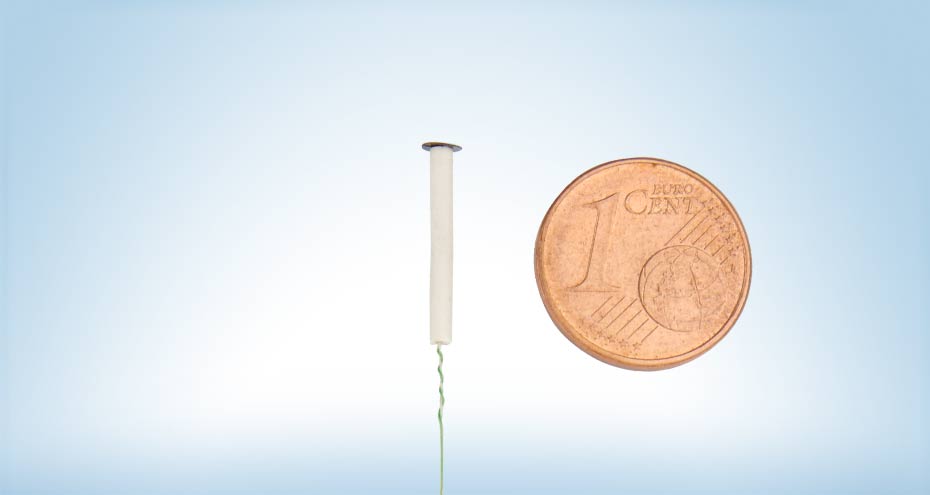 Miniature surface thermocouple
With this development task, our challenge was to exceed our previous solutions.
A thermocouple was to be developed for surfaces that did not exceed a diameter of three millimetres and which had as low a net weight as possible. To keep the response times as short as possible. We took our friction sensor (MST-20347) as our inspiration.
A metal plate is used as the measuring point on a ceramic housing. The miniature surface thermocouple has exactly the same structure. A round stainless steel plate with a thickness of 0.05 mm and a diameter of 3 millimetres was chosen. Through precision laser welding, the ends of an AWG 39 thermowire were affixed to the small plate. The plate therefore forms the measuring point with a large ratio of surface to mass. The ceramic housing carries and protects the wire. This thermocouple is therefore able to register the tiniest changes in surface temperature with extremely fast response times.
Typical area of application
Surface temperature measurement
Pros
Extremely fast response times
Can't find what you're looking for among our standard products? Are you looking for something particularly special?
We will be happy to advise you. Thinking ideas through to fruition and developing intelligent product solutions from them is our strong point.
Just ask. We're always happy to help.