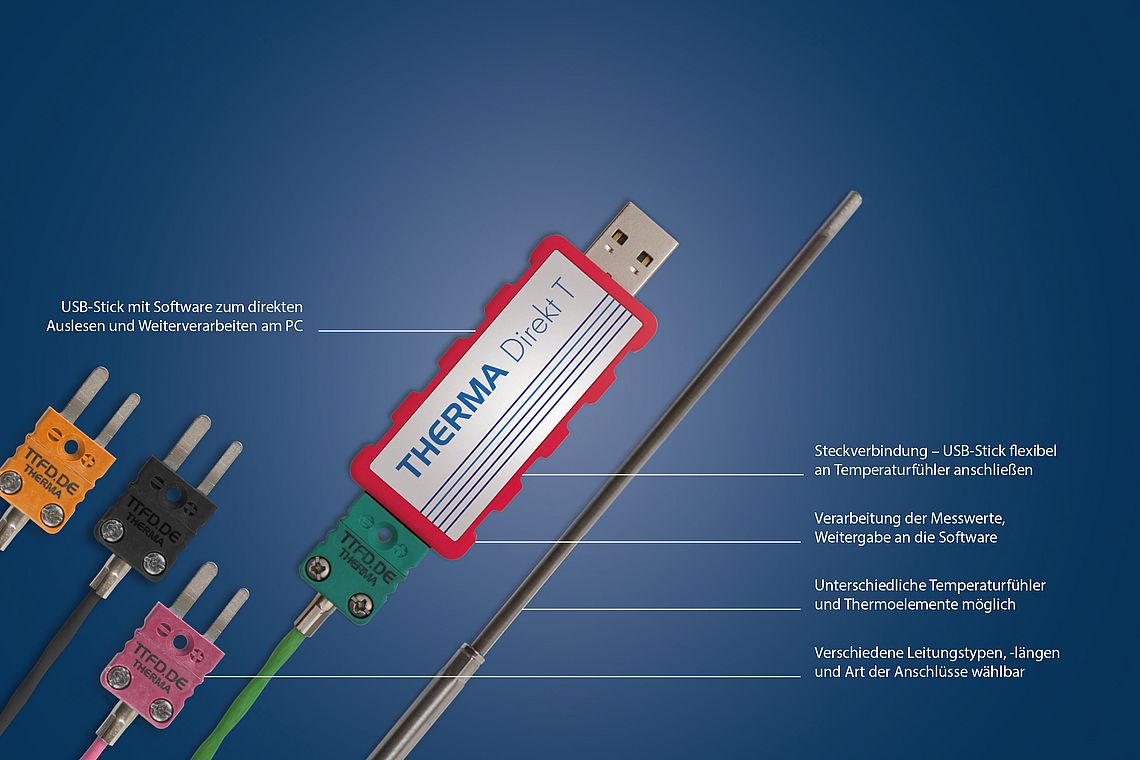 THERMA Direkt T USB temperature converter
USB temperature converter – Includes free read-out software – Efficient and flexible measurement without additional measuring system – Mobile and directly on site – For all common thermocouples
The compact system for measuring and reading in a single step
With the "THERMA Direkt T" USB temperature converter, measuring, reading and processing measuring data is more efficient and flexible than ever. This is because, unlike conventional temperature sensors, the "THERMA Direkt T" USB temperature converter saves on investments in additional measuring equipment thanks to its integrated USB port.
As the name suggests, the sensor's measuring data is transferred during direct operation to the USB stick. From there, the data is transferred in seconds to any conventional PC and can be read out or used for further processing using the free, powerful software supplied. The sensor itself can be freely calibrated for comparison point compensation. An additional advantage: the USB stick has a built-in mini coupling, making it flexible enough to be connected to all common thermocouples with a mini connector. Of course, you can freely configure the temperature sensor, as you would expect from THERMA, up to an application temperature of +1,820 °C. And last but not least, there are plans for an integrated alarm system which will ensure that if limit values are exceeded an alert can be issued directly via e-mail, SMS or phone call. The full product description can be found in the datasheet PDF available to download.
Typical area of application
Measuring, recording and monitoring temperature
Laboratory applications
Automotive industry, special mobile measurements, e.g. test drives, etc.
Motorsports vehicles
HVAC technology
Food industry
Greenhouses
Weather stations
Pros
Freely configurable thermocouple
Free software, including updates
Tiny footprint
Integrated USB 2.0 interface, electronics fully integrated into the USB plug
Constant recording of all measuring values and alarm events
and many other parameters
Use our experience and expertise for your success. We look forward to finding the perfect solution for you too!
Compact USB temperature sensors for versatile applications
In our large selection of temperature sensors for industrial applications, you will also find powerful individual solutions that can significantly facilitate everyday life in your working environment. Our years of experience in temperature sensors have shown us that special designs help our customers find just the right product and use it with complete satisfaction. That is why we have developed our practical USB temperature probe, which combines several steps of work without interruption or additional equipment. The compact device consists of a conventional USB connector that is compatible with all standard computers, making data readout a breeze. The connector allows flexible connection to different temperature probes and thermocouples. Of course, you can also choose the cable types and the length of the connection cable. These are included in the configuration for the temperature sensors USB, just like the type of connections.
Get accurate measurement results in just one step
Our temperature probe with USB connection combines our powerful technology for temperature measurement in all environments with a modern and efficient system for data processing. This means you don't have to compromise on practicality for data analysis, nor do you have to sacrifice a high-quality temperature sensor that meets industry standards. The USB temperature sensor combines measurement, data readout and further processing in one system. This allows you to work with maximum efficiency and flexibility and to optimize your processes in many application areas. Additional measuring equipment is therefore no longer necessary, since a sensitive temperature sensor is already integrated in the USB port. The advantages of the temperature sensor USB compared to conventional measuring devices are mainly seen in the workflow, but also in the flexible application possibilities.
With professional software for fast evaluation
When you evaluate your temperature data records, many companies have additional work steps that are rendered obsolete by modern technology specialized in the field of application. More individual processes, such as measuring, transferring the data and then feeding it into software for evaluation, also always mean greater susceptibility to errors. With a temperature sensor with USB integration, on the other hand, you can read out your results in no time at all. The USB temperature sensor transmits the measurement data directly so that they can then be evaluated in the connected software. When you purchase a USB temperature sensor from our range, you also receive the free software for professionals, which impresses with its range of features as well as its intuitive operation. Of course, we also provide you with updates for the temperature sensor readout software, so that you always benefit from the latest technology.
Flexible application possibilities with USB temperature converter
During the development of our USB temperature sensor, it was particularly important to us that the measuring instruments can still be freely configured for the corresponding area of application. The USB temperature sensor is ideally suited for laboratory applications, but is also used in the food industry, for example. A USB temperature sensor can also offer many advantages for greenhouses and weather stations, as it facilitates the recording and immediate evaluation of data records. Likewise, our USB temperature sensor is used for air conditioning and ventilation technology. In addition, the powerful temperature sensor is popular in the automotive industry, as mobile measurements such as during test drives can be carried out very easily.
Free configuration with smallest design
Our temperature sensor with USB connection is particularly compact, which predestines it for numerous niche applications. Nevertheless, you benefit from our usual high quality and many options for configuration. Thanks to mini-coupling, the USB temperature sensor can be used with all common mini-plug equipped thermocouples. Also the free calibration for the sensor, which also allows the use at extreme temperatures, is done as usual. No matter if you want to use temperature sensors under particularly humid or dusty conditions or if you want to cover extreme temperatures of up to +1820 degrees Celsius – with our USB temperature converter you use a modern methodology for this, which optimizes your processes. The integrated USB 2.0 interface is powerful and combines innovative temperature measurement technology with uncomplicated evaluation. The continuous logging of the measured values and the smooth transmission path make the USB temperature sensor a worthwhile investment.
USB temperature sensor with reliable alarm system
Not to be ignored is the configuration of the alarm system, which makes the temperature sensor usable for sensitive limit value measurements. For example, in weather stations, but also in the food industry, real-time temperature monitoring is an important safety factor. Nevertheless, not all processes can be constantly supervised, so a system that detects limit violations and automatically triggers an alarm is very important. The modern options with our USB temperature sensor include notification by email, as well as by phone call or SMS. This keeps all operations under control at all times. Since the temperature measurements are directly recorded and processed for evaluation, it is very easy to track temperature deviations. In the same way, alarm events are of course stored and enable continuous optimization of your processes.